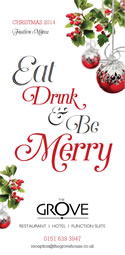 Have a great Christmas at the Grove House Hotel.
From the Friday 27th November to 31st December, join us in the Oak Tree Restaurant or on one of our Party Nights in the Function Suite.
To book for Christmas, please contact us by email, phone or fax as follows:
From 27th November to 31st December...
Christmas Lunch Price List ~ Three Courses

Monday to Thursday

£23.95

Friday & Sunday

£24.95

Christmas Day - 6 Course Dinner
FULLY BOOKED - We're fully booked for Christmas Day, but contact us to join the list of standby diners.

£105.00

Christmas Dinner Price List
Excluding 25th, 26th & 28th December

Friday and Saturday
6.00pm - 9.30pm

£28.95

Monday to Thursday
5.30pm - 6.30pm
7.00pm - 9.30pm
£23.95
£26.95
Christmas Eve Dinner
£28.95
New Year's Eve ~ Special Four Course menu
£49.00
Terms and Conditions
Full payment of the balance on Christmas party nights is due 28 days prior to the date of the party.
Any bookings not fully pre-paid by this date may be deemed cancelled.
We regret that neither the deposit nor the full payment will be
refundable and cannot be transferred to other dates.
We cannot guarantee that our food produce does not contain nuts or
nut by-products.
We cannot guarantee where a table will be in the restaurant or the
shape or size of the table.
We will try to honour requests wherever possible.
Gratuities and service charge is not included.
Non-Refundable Deposit
Party Nights (on all bookings)
£10 per person within 7 days of booking
Restaurant - Lunch/Dinner (on bookings of 6 or more)
£10 per person deposit
Pre-Orders
These are required for restaurant tables of 16 or more, a downloadable
pre–order form can be found on our website.
Disclaimer
Whilst taking every care to honour commitments we regret that we will
not accept liability for errors, omissions or cancellations, however caused,
and limit any claim to a refund or monies paid only.
Taxis
Please order your taxis well in advance during the busy Christmas period.
From 27th November to 31st December....
Christmas Party Nights Price List
7.30pm Arrival, 8.00pm Meal
4 Course Meal, Disco, Late Bar, Hats, Crackers etc
Bar / Disco Times
Wed & Thurs: Midnight- Fri & Sat 12.30am

Date
 
Friday 27th November
£25.00
Saturday 28th November
£29.00
Thursday 3rd December
£25.00
Friday 4th December & Saturday 5th December
£34.50
Thursday 10th December
£29.00
Friday 11th & Saturday 12th December
£34.50
Wednesday 16th & Thursday 17th December
£29.00
Friday 18th & Saturday 19th December
£34.50
Wednesday 23rd December
£27.00
Bookings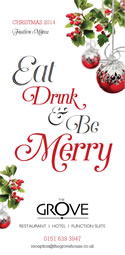 To book for Christmas, please contact us by email, phone or fax as follows:
Our Lunch & Dinner Christmas Menu
Three Courses
~~~~~
Starters
Tomato and roasted pepper soup
Served with crisp croutons
Broccoli and Stilton soup
Served with crisp croutons
Fan of Melon
Seasonal fruits, pomegranate coulis, mango sorbet
Trio of Smoked Seafood
Mackerel, trout and salmon, Bloody Mary mayonnaise
Lambs Kidneys on Toast
Pan fried with smoked bacon, black pudding, red wine and shallot dressing
Chicken Liver and Pork Pate
Toasted bloomer, onion chutney
Tomato & Butternut Squash Risotto
Goats' cheese, watercress, pine nuts and basil oil
Prawn Cocktail
Iceberg lettuce, Bloody Mary mayonnaise
Appleby Farm Egg
Served with smoked salmon, prawns and mayonnaise
King Scallops (£5.00 Supplement)
Baked in garlic butter, ciabatta bread  
~~~~~
Mains
Roast Fresh Cheshire Turkey
Served with chipolata sausage, stuffing and roast gravy
Roast Leg Of Lamb
Served with mint sauce and gravy
Rump Steak Diane
Mushroom, French mustard and brandy cream sauce
Breast of Chicken
Potato rosti, mushroom and asparagus cream sauce
Welsh Pheasant
Pan fried breast, confit leg, braised red cabbage, Port wine sauce
Grilled Peterhead Hake
Bed of spinach, prawn and chive cream sauce
Breast Of Duck (£2.00)
Braised red cabbage, port wine sauce
Steak and Guinness Pie
Baked with a puff pastry lid
Loch Duarte Salmon Fillet
Served on a bed of fine beans, new potatoes, prawn and chive cream
Fillet Steak (£7.00 Supplement)
Chips, tomato, mushrooms, pepper sauce
A Selection of seasonal vegetables & Potatoes
We have a vegetarian Menu On Request
Desserts
Choose from our famous Sweet Trolley
or
Christmas pudding with rum sauce
Coffee and mince pies - £2.50
~~~~~
The Party Night Menu
Four Courses
Catering for tables of 10-110 people, with Disco,
Dancing, Party hats & Novelties
Starters
Trio of Smoked Seafood
Bloody Mary mayonnaise, salad garnish
Fan of Melon
Seasonal fruits, pomegranate coulis
Tomato and Roasted Pepper Soup
Served with crisp croutons
Mains
Roast Cheshire Turkey
Served with chipolata sausage, sage and onion stuffing, cranberry sauce and gravy
Roast Leg of Lamb
Served with mint sauce and gravy
Breast of Chicken
Served in a white wine mushroom cream sauce, fresh asparagus    
Grilled Peterhead Hake
Bed of spinach, prawn and chive cream sauce                  
Tomato and Butternut Squash Risotto
Goats' cheese, watercress pine nuts and basil oil
All served with roast and new potatoes, fresh vegetables
Desserts
Christmas Pudding, Fresh Fruit Meringue, Strawberry & White Chocolate Torte
Double Chocolate Cake, Cheese & Biscuit Platter  
Fresh Coffee and Mince Pies
~~~~~