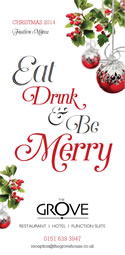 After another successful and very popular Christmas and New Year, we're inviting you to book early for 2016!
Some of our customers have already booked in, so contact us now to make sure you get your preferred date and time.
Our Christmas festivities run from the end of November to the 31st December.
During the festive period we offer Christmas Lunch and Dinner in the Restaurant and Christmas Party Nights in our Function Suite.
Our Christmas and Party Night menus from 2015 are shown below as examples of the great dining options we have available.
To book for Christmas, please contact us by email, phone or fax as follows:
We look forward to hearing from you...
Our Lunch & Dinner Christmas Menu from 2015
Three Courses
~~~~~
Starters
Tomato and roasted pepper soup
Served with crisp croutons
Broccoli and Stilton soup
Served with crisp croutons
Fan of Melon
Seasonal fruits, pomegranate coulis, mango sorbet
Trio of Smoked Seafood
Mackerel, trout and salmon, Bloody Mary mayonnaise
Lambs Kidneys on Toast
Pan fried with smoked bacon, black pudding, red wine and shallot dressing
Chicken Liver and Pork Pate
Toasted bloomer, onion chutney
Tomato & Butternut Squash Risotto
Goats' cheese, watercress, pine nuts and basil oil
Prawn Cocktail
Iceberg lettuce, Bloody Mary mayonnaise
Appleby Farm Egg
Served with smoked salmon, prawns and mayonnaise
King Scallops (£5.00 Supplement)
Baked in garlic butter, ciabatta bread  
~~~~~
Mains
Roast Fresh Cheshire Turkey
Served with chipolata sausage, stuffing and roast gravy
Roast Leg Of Lamb
Served with mint sauce and gravy
Rump Steak Diane
Mushroom, French mustard and brandy cream sauce
Breast of Chicken
Potato rosti, mushroom and asparagus cream sauce
Welsh Pheasant
Pan fried breast, confit leg, braised red cabbage, Port wine sauce
Grilled Peterhead Hake
Bed of spinach, prawn and chive cream sauce
Breast Of Duck (£2.00)
Braised red cabbage, port wine sauce
Steak and Guinness Pie
Baked with a puff pastry lid
Loch Duarte Salmon Fillet
Served on a bed of fine beans, new potatoes, prawn and chive cream
Fillet Steak (£7.00 Supplement)
Chips, tomato, mushrooms, pepper sauce
A Selection of seasonal vegetables & Potatoes
We have a vegetarian Menu On Request
Desserts
Choose from our famous Sweet Trolley
or
Christmas pudding with rum sauce
Coffee and mince pies - £2.50
~~~~~
The Party Night Menu from 2015
Four Courses
Catering for tables of 10-110 people, with Disco,
Dancing, Party hats & Novelties
Starters
Trio of Smoked Seafood
Bloody Mary mayonnaise, salad garnish
Fan of Melon
Seasonal fruits, pomegranate coulis
Tomato and Roasted Pepper Soup
Served with crisp croutons
Mains
Roast Cheshire Turkey
Served with chipolata sausage, sage and onion stuffing, cranberry sauce and gravy
Roast Leg of Lamb
Served with mint sauce and gravy
Breast of Chicken
Served in a white wine mushroom cream sauce, fresh asparagus    
Grilled Peterhead Hake
Bed of spinach, prawn and chive cream sauce                  
Tomato and Butternut Squash Risotto
Goats' cheese, watercress pine nuts and basil oil
All served with roast and new potatoes, fresh vegetables
Desserts
Christmas Pudding, Fresh Fruit Meringue, Strawberry & White Chocolate Torte
Double Chocolate Cake, Cheese & Biscuit Platter  
Fresh Coffee and Mince Pies
~~~~~