Special Celebrations Offer
Looking to book a night time party, Christening, or Special Celebration?
We're currently offering a buffet for 60 people at £750.00, 75 people at £875.00 and for 100 people at £1,150.
Contact us on 0151 639 3947 for more information.
---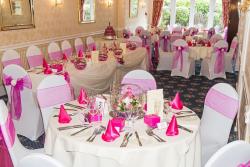 Join us at The Grove House to celebrate all types of events, from family special occasions, including milestone birthdays and retirement parties to business promotions.
Our Function Suite is available for:
Weddings
Christenings
Civil Ceremonies
Private Parties
Anniversaries
Exclusive use of the hotel, available for up to 170 guests
Celebration Menus
We have a range of menu options for your Celebration - these are listed below.
Please contact us for further information on our menu options by phone on 0151 639 3947 or by email to reception@thegrovehouse.co.uk.
Sample Menu 1 ~ For 25 to 40 people
Starters...
  Cream of Fresh Asparagus Soup
  Melon Rose ~ With fresh fruit garnish, strawberry coulis and mango sorbet
  Goats Cheese ~ Vine tomato and walnut salad (v)
 
Mains...
  Roast Leg of Welsh Lamb ~ Served with mint sauce
  Chicken Breast ~ Smoked bacon, garden peas and cream sauce, potato rosti
  Grilled Fillet Of Seabass ~ Served in a seafood sauce
All main courses are served with a selection of fresh vegetables and potatoes
 
Desserts...
  Chocolate Torte
  French Lemon Tarte
  Meringue
Sample Menu 2 ~ For 25 to 40 people
Starters...
  Cream of Leek & Potato Soup
  Chicken Liver & Pork Terrine ~ Served with toasted bloomer, red onion chutney
  Appleby Farm Egg Mayonnaise ~ Served with smoked Salmon, Prawns and mayonnaise
 
Mains...
  Breast Of Chicken ~ Served with Wild mushroom cream sauce and potato rosti
  Loch Duart Salmon ~ Green beans, new potatoes, white wine cream sauce
  Filo Pastry Basket ~ Filled with Quorn, sweetcorn, cherry tomatoes, chestnuts and broccoli
All main courses are served with a selection of fresh vegetables and potatoes
 
Desserts...
  Fresh Fruit Salad
  Lemon, Orange & Grand Marnier Cheesecake
  Profiteroles in Chocolate Sauce
Starters & Main Course & Desert Choices
Starters...
Freshly Made Soup Of Your Choice ~ Minestrone, Asparagus, Vegetable, Leek & Potato, Chicken, Mushroom Served with crisp croutons
Melon Fan Rose ~ With a fresh fruit garnish, strawberry coulis and sorbet
Chicken Liver & Pork Terrine ~ Served with toasted bloomer, red onion chutney
Trio of Smoked Seafood ~ Smoked Mackerel, Smoked Trout and Smoked Salmon ~ Seasonal leaves drizzled with lemon and herb dressing 
Goats' Cheese ~ Vine tomato and walnut salad (v)
Salmon & Prawn Fishcake (+ £2.00) ~ Served with salad garnish and tartare sauce
Classic Prawn Cocktail (+ £2.00)
Stuffed Mushrooms ~ Cream cheese and chives, garlic mayonnaise, salad garnish
Appleby Farm Egg Mayonnaise ~ Served with smoked salmon, prawns and mayonnaise
Portobello Mushroom ~ Shropshire Blue, spinach, red onion dressing
Mains...
Roast Leg of Welsh Lamb ~ Roast leg of lamb with mint sauce
Roast Leg of Pork ~ Served with Apple sauce, Sage and Onion stuffing
Breast of Chicken ~ Served with Wild Mushroom cream sauce and potato Rosti
Grilled Chicken Breast ~ Smoked Bacon, garden peas and cream sauce
Roast Breast of Cheshire Chicken ~ Sage and onion stuffing, chipolata sausage wrapped in bacon roast gravy
Loch Duart Salmon ~ Green beans, new potatoes, White wine cream sauce
Grilled Fillet of Seabass ~ Served in a Seafood sauce
Rump Steak Diane ~ Served in a Diane sauce
Grilled Fillet Steak (+ £5.00) ~ Peppercorn sauce
Roast Sirlion of Beef (+ £2.00) ~ Yorkshire pudding, horseradish sauce and roast gravy
Filo Pastry Basket ~ Filled with Quorn, sweetcorn, cherry tomatoes, Chestnuts and broccoli
 
All main course are served with a selection of fresh vegetables and potatoes
Deserts...
Fresh Fruit Salad
Lemon, Orange & Grand Marnier Cheesecake
Strawberry Meringues
Profiteroles, Chocolate Sauce
Double Chocolate Torte with Fresh Cream
Classic Vanilla Ice Cream
Chocolate Brownie with Vanilla Ice Cream
Strawberry and White Chocolate Torte
French Lemon Tart
Cheese and Biscuit Platter
 
Fresh Coffee ~ £1.95
Sweet or Cheese With Buffet Menus ~ £5.25
Buffet Option B ~ £15.75
Selection of cocktail sandwiches which would include:
(BLT, Prawn mayonnaise, Chicken Tikka, Ham salad, cheese & tomato)
Chipolata sausages, Prawn savouries, Mushroom savouries, Cocktail pie with pickle
Breaded crumbed Chicken portions, Scotch eggs with tomato wedges
Hot Mini Cornish pasties, Tortilla chips with tomato salsa
Hot puff pastry savouries, Quiche Lorraine & cheese and onion quiche
Buffet Option C ~ £17.50
Selection of cocktail sandwiches which would include:
(BLT, Prawn mayonnaise, Chicken Tikka, Ham salad, cheese & tomato)
Chipolata sausages, Prawn savouries, Mushroom savories, Cocktail pie with pickle
Chicken portions, Scotch eggs with tomato wedges
Tortilla chips with tomato salsa, Quiche Lorraine & Cheese and onion quiche
Hot puff pastry savouries, Mixed open sandwiches, Scampi served with Tartar sauce
Cheese and Tomato pizza
Carved Buffet 3 ~ £19.50
(Minimum of 40 people)
Roast Sirloin of beef, Rolled cornets of York ham
Roast leg of pork with apple sauce, Breaded chicken portions
Fresh poached salmon mayonnaise, Scampi served with Tartar Sauce
Egg mayonnaise, Coleslaw, Savoury rice salad
Creamed pasta salad, Mixed salad
New potatoes, Bread rolls and butter
Hot Buffet ~ £17.95
Chicken Curry
Chilli con Carne
Italian Lasagne
Garlic Ciabatta
Potato salad, Mixed salad
Coleslaw, Boiled rice
(Vegetarian option available.)